Add an Extra Printed Document
Printed Document

Include an extra printed document with your order.

We print your 8.5 x 11 document in full color on glossy presentation paper. It is folded, and included with the package.
MS word or PDF

We accept Microsoft Word (.doc) files as well as Adobe (.pdf) files.

Due to print cost and weight, limit the size of your document to no more than 10 pages.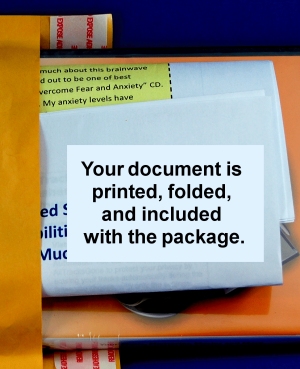 Edit your project

While editing your project, scroll down to the optional full color printed document section and click the green upload arrow to upload your .doc or .pdf file.

There is an extra charge for this option.
Upload Document to Project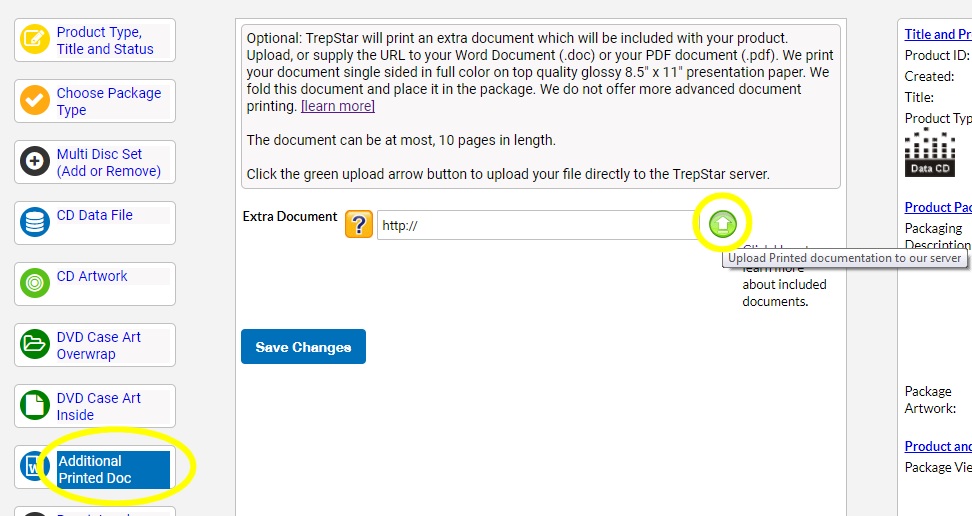 Edit your project and scroll down to the section 'Optional Full Color Printed Document'... Upload the .doc or .pdf file to the project. If you have a .docx file, convert it to a .doc file from within Word to remain compatible with our system.

Documents are useful for additional marketing material and instructions.
Documents are SINGLE sided. We used to print on both sides of the paper to lower the package weight but most customers want single sided documents.
We do not print more than 10 pages.
We do not staple, or print any other type of book style of material.
We print to high quality glossy presentation paper using full color laser printers.
There is an extra charge for this option. To see pricing, upload a document, then click the 'Price Summary' Button at the bottom of the left column. It's less than a dollar extra for 1 to 5 pages, and a little more than a dollar extra for 6-10 pages. This covers our print cost and extra handling charge.